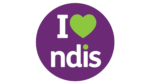 The National Disability Insurance Scheme (NDIS) is Australia's first national scheme for people with a disability and moves away from the previous system of providing funding to agencies and community organisations.  Individuals are now provided with funds directly, giving choice and control over the supports they receive.
Canefields Clubhouse is a registered NDIS Provider. Whether you are eligible for, already have, or want more information on an the NDIS, please let us help you get NDIS ready by guiding you through the whole process.
The experienced NDIS team at Canefields can support you with:
The NDIS application process
Working with you to gather information and prepare you for your planning meeting
Accompany you to NDIS planning meetings and other appointments that may assist you in your application
Help coordinate all your support services
Help you carry out and implement your approved plan
Contact carers, family and other supports on behalf of the applicant to help gather information
Help you to appeal an unwanted access decision and assist you to find other supports
Offer our own NDIS services directly to you (see our services above)
High quality services and flexibility
Core supports are services that help you to manage day to day tasks. See below the Core services we can offer.
Capacity supports are services that help you to build independence and life skills. See below the Capacity services we can offer.
Individual Skill Development and Training ($58.52)
Individual Skill Development and Training incl. Public Transport Training ($46.31)
*other services available upon request
Individual Employment Support ($59.03)
Employment Preparation and Support in a Group of 3 ($19.68)
*Plan-managed only
Life Transition Planning incl. Mentoring, Peer-support and Individual Skill Development ($60.16)
Assistance with Decision Making, Daily Planning and Budgeting ($46.31) 
Support Coordinations help participants implement supports in their plan including informal, government services, community activities and funded supports. We help you make your own decisions about how to make your package work for you.
Level 1 Support Coordination ($60.16)
Level 2 Support Coordination ($98.06)
The Canefields NDIS Program has grown and expanded in the past year. Experiencing so many successes and an increase in our current and new members receiving NDIS services we have been able to expand our team. 
All of our staff have knowledge of the NDIS and experience delivering high quality, specialised support services. All staff have completed the NDIS Worker Orientation Module, have completed a QLD Criminal Screening (Yellow and Blue Card) and have relevant qualifications and experience to deliver Canefields NDIS Services. 
Devina – NDIS Access & Operations Coordinator
Lauren – NDIS Access & Operations Coordinator
Jane – Canefields Clubhouse Director
Peta – NDIS Support Coordinator
Tony –  NDIS Support Worker
Kath – NDIS Support Worker
Troy – NDIS Support Worker
Charlie – NDIS Support Worker & Personal Trainer
Kylie –  NDIS Support Worker
Sally – Clubhouse Housing Coordinator
Jack – Clubhouse Employment & Education Coordinator and Wonderful Services 
Karen – Volunteer Support Worker
Call our NDIS Access & Operations Coordinators for any inquiry:
Devina – 0431 167 865 
Lauren – 0468 890 320
or email at ndis@canefieldsclubhouse.org.au
Visit us at unit 8, 11-13 Logandowns Drive, Meadwbrook 4131 QLD