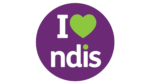 What can the NDIS do for you?
The National Disability Insurance Scheme (NDIS) can help you to achieve your goals in life by providing funding for supports to help you get there. These supports may include things like: 
Assistive Technology
Individualised Support tailored to you 
Housing Support
Help to build independence 
Help to understand your plan and find the right supports for you 
Working with all the important people in your life to help you to achieve your goals
The NDIS can fund a variety of community activities that you can participate in 
Canefields Clubhouse is a registered NDIS Provider. Let us help you get NDIS ready by guiding you through the process. 
The experienced NDIS team at Canefields can support you with:
The NDIS application process
Working with you to gather information and prepare you for your planning meeting
Accompany you to NDIS planning meetings and other appointments that may assist you in your application
Help coordinate all your support services
Help you carry out and implement your approved plan
Work with the important people and supports in your life to gather important information to access the NDIS and implement your plan
Help you to appeal reviewable decisions, conduct plan reviews and assist you to find other supports
Access to our many NDIS services, activities and experienced team of support workers (see our services below)
Supports that will make sure your own unique goals and experiences are a priority 
We champion YOU and YOUR choices! 
Core supports are services that help you to manage day to day tasks. See below the Core services we can offer.
Capacity supports are services that help you to build independence and life skills. See below the Capacity services we can offer.
Individual Skill Development and Training incl. Public Transport Training ($54.30)
*other services available upon request
Assistance with Decision Making, Daily Planning and Budgeting ($54.30) 
Support Coordinators help participants implement supports in their plan. We help you make your own decisions about how to make your package work for you.
Level 1 Support Coordination ($61.76)
Level 2 Support Coordination ($100.14)
Recovery Coaching is tailored to the needs of people with a primary psychosocial disability with a focus in coaching and collaborating with other services. 
Psychosocial Recovery Coach (from $80.90)
All of our staff have knowledge of the NDIS and experience delivering high quality, specialised support services. All staff have completed the NDIS Worker Orientation Module, have completed a QLD Criminal Screening (Yellow and Blue Card) and have relevant qualifications and experience to deliver NDIS Services. 
The NDIS Team Key contacts
Lauren – Senior NDIS Program Coordinator
Seensim – NDIS Support Coordinator & Recovery Coach
Call our NDIS Program Coordinators for any inquiry:
 (07) 3807 0951
or email at ndis@canefieldsclubhouse.org.au
Visit us at unit 8, 11-13 Logandowns Drive, Meadwbrook 4131 QLD